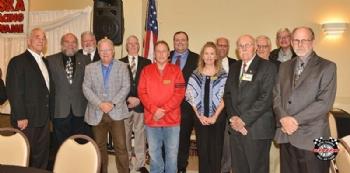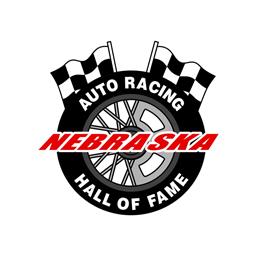 10/27/2017
Nebraska Auto Racing Hall of Fame
---
NARHoF holds 20th Annual Induction Ceremonies
LINCOLN, Neb.—A sold out crowd was on hand Friday night for the 20th annual Induction Ceremonies of the Nebraska Auto Racing Hall of Fame. The event was held at the Lincoln Firefighter's Hall in Lincoln.
Seven new members were inducted in to the Hall of Fame and Grand Island residents Steve and Belinda Wessels received the Gordie Shuck Lifetime Achievement Award.
Following the traditional dinner, Master of Ceremonies and NARHoF Emeritus Board Member Tony Glenn welcomed the large crowd and introduced the members of the Hall of Fame Board of Directors, as well as a number of past inductees who were present.
Prior to the induction of the Class of 2017, Steve and Belinda Wessels were introduced as this year's recipients of the prestigious Gordy Shuck Lifetime Achievement Award. The Grand Island couple has been involved in dirt track racing in Nebraska for over 45 years in a variety of capacities. Steve began a brief driving career in 1971, and the couple purchased GM Fabrication and Racing Products in 1983. They were instrumental in the founding and success of the Central Nebraska Circle Track Association (CNCTA), and also founded and continue to operate the Central Nebraska Racer's Auction and Trade Show, held in Grand Island each year. In addition, the Wessels have sponsored or owned race cars driven by a number of successful Nebraska drivers including Nebraska Auto Racing Hall of Fame inductees Al Humphrey and Kent Tucker.
Members inducted into the 2017 Hall of Fame class included:
Mike Barnett (Lincoln)
Mike Barnett's involvement in racing in the Midwest began in the late 1960s. Over the years, Barnett turned wrenches and served as the Crew Chief on Sprint Cars driven by NARHoF inductees Don Droud, Sr. and Jim Riggins, as well as Rex Hendrickson and Ed Bowes. Throughout the 1970s and 1980s, Barnett-prepared Sprint Cars raced successfully in Nebraska, Iowa, South Dakota and Missouri. In 1971, Barnett was named Mechanic of the Year by the Nebraska Modified Racing Association and in 1984, a Barnett-prepared Sprinter won the season championship at Midwest Speedway in Lincoln, with Droud behind the wheel.
Gene Bichlmeier (Norfolk)
Gene Bichlmeier's career as a Drag Racer began in 1965, and over his fifty-plus year racing career, he has logged thousands of quarter-mile runs at hundreds of race tracks in 20 different states, while securing a total of 46 class wins. He won the points championship at Thunder Valley Dragway in Marion, South Dakota five times and won point titles at Scribner, Nebraska on three occasions. Bichlmeier's national resume includes a win at the 1997 NHRA Winternationals at Pomona, California and a runner-up finish at the Gatornationals in Gainesville, Florida in 2001.
Paul Brown (Omaha)
Paul Brown entered his first Road Race at the age of 16, and competed in hundreds of events across the country until his untimely death in 2012 at age 43. He was a 5-time SCCA (Sports Car Club of America) National Road Race champion and was the 2011 SCCA Pirelli World Challenge GTS champion. That year, he won the SCCA Driver's Championship, while securing, for Ford, the SCCA Manufacturer's Championship. Over the years, he held track records at numerous prestigious road courses including Mid Ohio Sports Car Course (Ohio), Road Atlanta (Georgia), Luguna Seca Raceway (California), Road America (Wisconsin), Mid-America Motorplex (Iowa), and Heartland Park Topeka (Kansas).
Lynn Grabill (Grand Island)
Lynn Grabill's involvement in racing, as either a driver or a car owner, spans portions of seven decades. He strapped himself into a dirt track race car for the first time as a 17-year old in the late 1950s and throughout his driving career, wheeled Coupes, Modifieds, Super Modifieds and Sprint Cars in Nebraska, Iowa and Kansas. After hanging up his helmet and fire suit, Grabill became a successful Modified Midget, Sprint Car and Micro Sprint Car owner, with his cars winning Modified Midget championships at Hastings and Waverly, Nebraska and Sprint Car titles at Osborn and Grain Valley, Missouri. With his son, Kerry, at the wheel, Grabill's car finished second at the NMMA (National Modified Midget Association) Western Region Championship event in Lemoore, California in 1997.
Carroll "Speedy" Hill (Omaha)
Carroll Hill began working in race track Fire Protection at Playland Park in Council Bluffs, Iowa in 1961 and over the next 40-plus years provided safety protection for over a dozen race tracks in Nebraska, Iowa, South Dakota, Kansas, Missouri and Colorado. Following the fiery death of a driver in Denison, Iowa in 2000, he put together a training course on race track fire protection and toured the Midwest, training race track safety personnel on how to quickly and effectively extinguish fires associated with auto racing. He served on the Indianapolis 500 fire safety crew for 18 years, and was eventually elevated to the rank of Assistant Fire Chief at the famed Brickyard oval.
Ray Valasek (Lincoln)
Ray Valasek has dedicated nearly 70 years of his life to the sport of auto racing as a driver, crew member, author and historian. His driving career began in 1950 when he first raced a stock car at South 13th Speedway in Omaha. He later raced in the NASCAR Sportsman Division, and in 1963, served as a crew member for Johnny White during his winning drive in the prestigious "Little 500" in Anderson, Indiana. Valasek was involved in the founding of the Nebraska Auto Racing Hall of Fame in 1997, and served as the organization's Secretary/Treasurer for numerous years. He co-authored, with Bob Mays, "Valley County Thunder, The History Of Racing In Ord, Nebraska," which was published in 2004.
Joe Wade (Dorchester)
Joe Wade's racing career began as an eight year old youngster, when he began racing go-karts at tracks in and around Lincoln. Following a brief stint racing motorcycles, he began racing a stock car at Midwest Speedway in Lincoln in 1969 and over the next 17 years, successfully drove both Late Models and Sprint Cars at over two dozen tracks in seven Midwestern states. He won track championships at Beatrice, Lincoln, York and Nebraska City and at one time held one-lap records at eight different Nebraska race tracks. Among his most prestigious career wins was the 1973 IMCA New Model Stock Car event at the Nebraska State Fair in Lincoln.
Due to circumstances beyond the control of the Hall of Fame Board, Wade was inducted as a member of the 2017 class, although his formal induction will take place as part of the 2018 Induction Ceremony.
At the conclusion of the festivities, attendees were invited to tour the internationally acclaimed Museum of American Speed. The museum, located on the nearby Speedway Motors campus, is a 135,000 square foot display of cars, engines and other historical artifacts pertinent to automobile racing and the automotive industry.
Article Media
Back to News